This month, we're delivering more three-way forecasting flexibility, and we're thrilled to announce that you can now
create
and
update
driver values with an Excel import.
A driver-based approach to planning allows you to forecast performance using your key operational drivers (ie. resources, activities, or other inputs). You can now import drivers into Fathom from Excel, and use these as levers to project future performance. This gives you greater forecasting flexibility and makes it even easier to build a robust and accurate forecast in Fathom.

Find all the details below, or get up to speed with this short video overview.
Importing drivers via Excel
Using drivers to calculate your forecast values empowers you to directly align your financial figures with the operational or unit-based metrics that are central to your business.
Fathom's new Excel import allows you to create and update your drivers in bulk. Our easy-to-follow template handles the formatting, giving you the option to specify any key information about your drivers, and then import them into the forecast drivers' grid.
For example, if you're running a cafe, you can import the predicted unit sales of coffee, pastries and food as separate drivers, and also bring in the associated average revenue per sale for each item, all in one Excel file. On your Profit & Loss, you can then use these drivers as variables in a formula to calculate your revenue.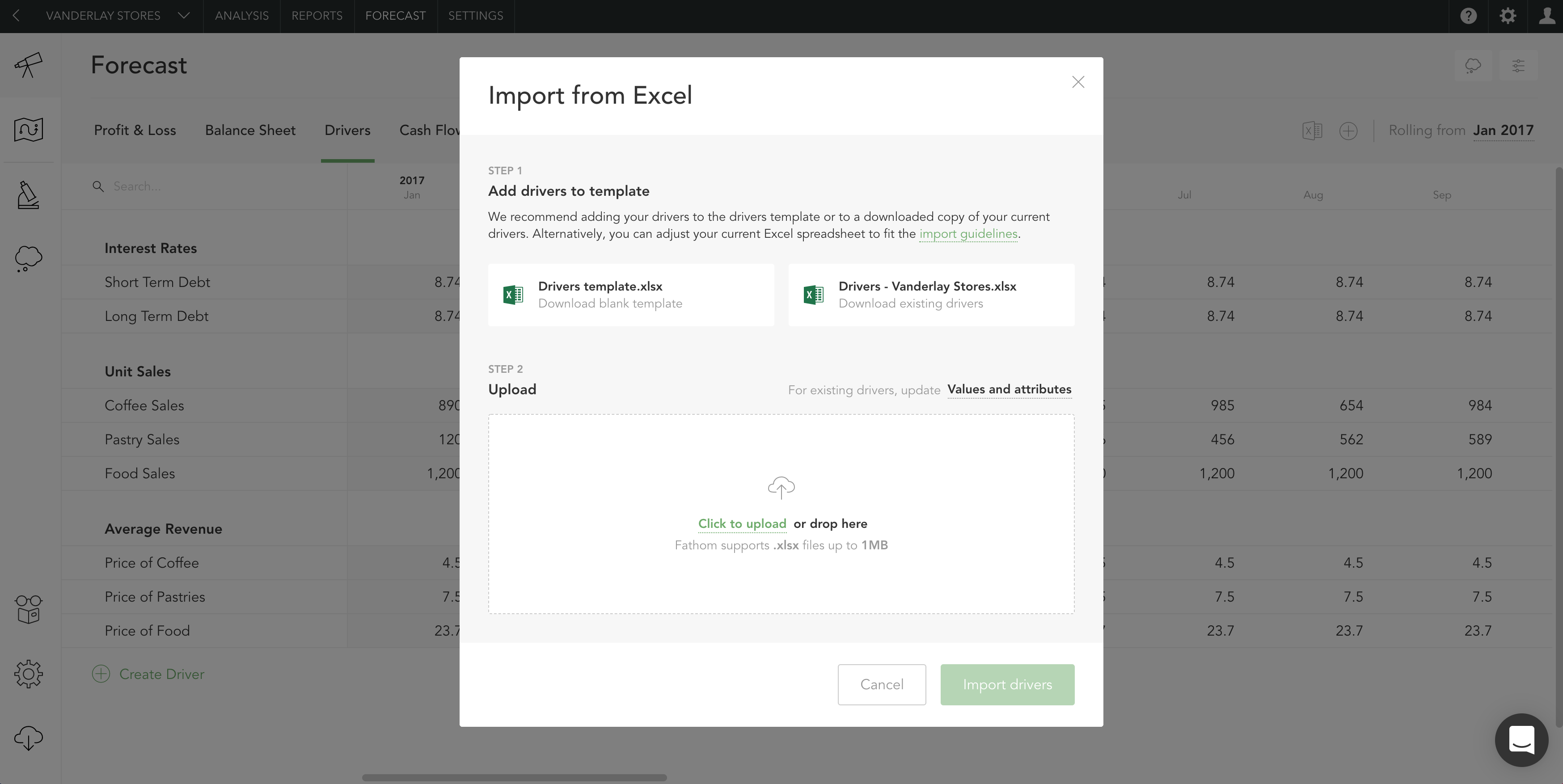 Use formulas to calculate the value of drivers
We understand that driver values are often dependent upon, or relational to, other drivers. That's why we've given you the ability to use a formula to calculate the value of drivers.
Simply open the drivers sidebar and create a new rule, by selecting either a 'constant or growing' value or a 'formula'. When the latter is selected, a formula builder will open so you can quickly build powerful formulas based on other drivers and constant values.
Driver rule timeline and settings sidebar
The Fathom forecast Profit & Loss has a 'rule timeline' to help you keep track of your calculations, and how they impact the numbers over time. We've brought the power and transparency of the rule timeline to the drivers' grid. Simply click on a driver name to view the timeline, and gain a holistic view of the calculations applied.
The new driver rule timeline gives you a place to view and manage the calculation methods that have been applied to your drivers. We've added a 'settings' tab to this sidebar, where you can manage and change the name, category, unit of measure and aggregation type of any driver.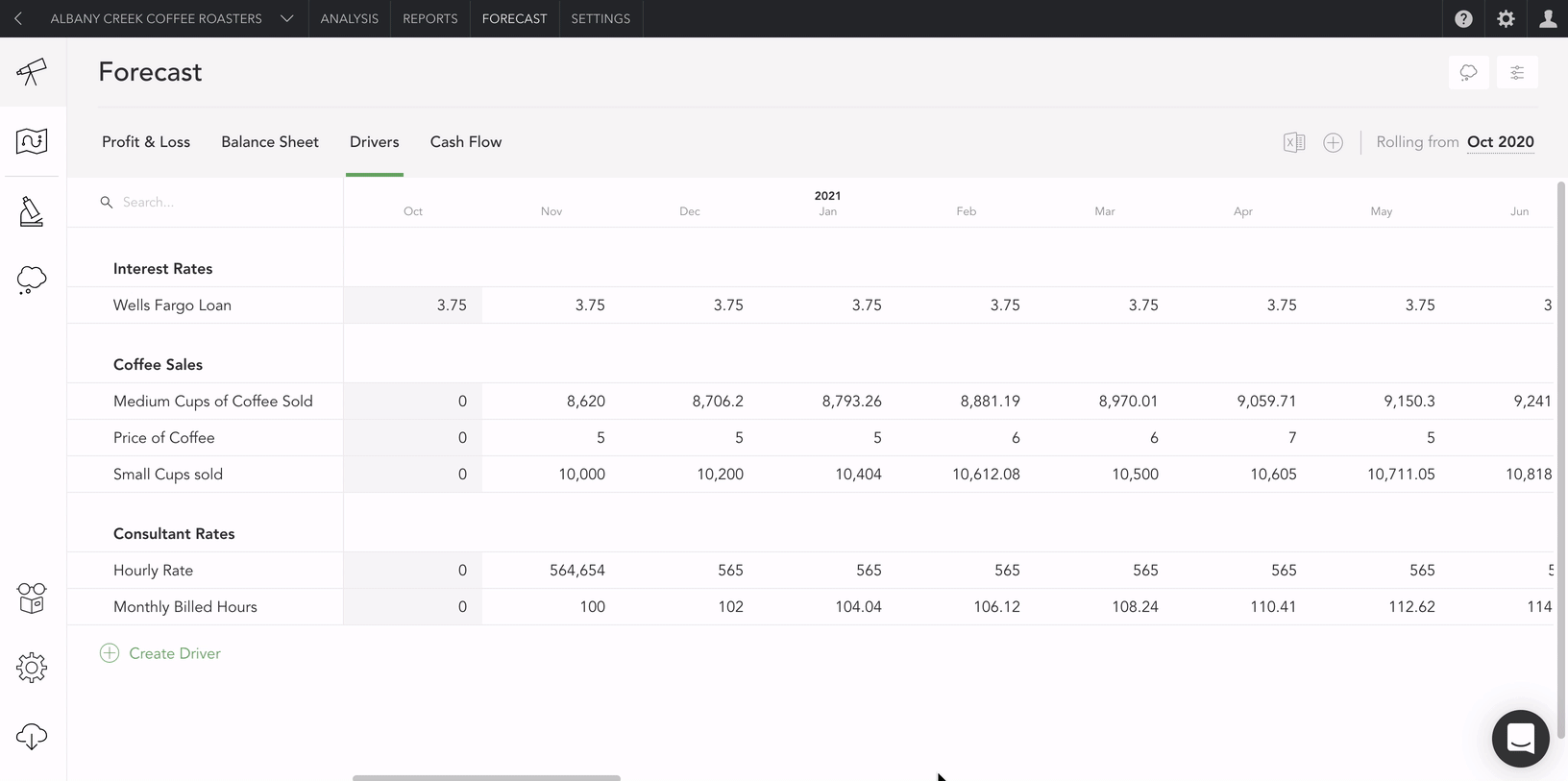 Additional enhancements
Move categories and drivers up and down
Reorder your drivers and driver categories to modify the way your drivers' grid is structured.
Duplicate drivers
Create a copy of your driver in just a few clicks, then manage the values and settings from the sidebar.
Unit of measure
Specify a unit of measure for the driver; choose from Number, Currency, Percentage, Time, Days, or set your own.
Aggregation type
Specify an aggregation type; choose from Summative, Average, and Balance.
Find out more about leveraging drivers in Fathom forecasting with these resources:
---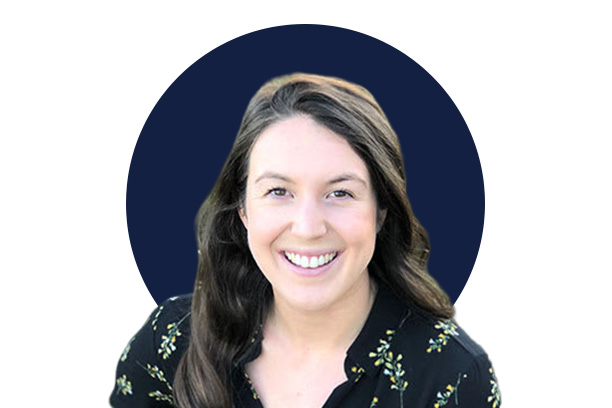 Written by Allanah Miller
Allanah is a Product Manager at Fathom, having previously worked closely with our customers in Account Management over the last few years. As a qualified CPA, Allanah brings vital accounting acumen to help us build the best possible product. Before joining the team at Fathom, Allanah studied at UCLA and worked with PwC for three years as a Senior Tax Associate.