Grant Greeff is the CFO of the Drone Ops Group, based in South Africa. Six months ago he deployed Fathom as part of an overhaul of the group's financial function. In this customer catchup he tells us how Fathom got to work instantly in improving the business.
Tell us a little about the Drone Ops Group
The Drone Ops Group is a drone technology business that safeguards the assets of businesses around South Africa. It also includes an accredited training academy that trains people to become drone pilots and advanced specialized drone pilots. That then fuels our other company, which provides those drone pilots to businesses on a retainer basis.
Read more: How Fathom is growing in South Africa
We operate in the security space, conducting surveillance and helping to reduce the number of incidents our clients' experience. We also offer inspection checks to help them optimize their business. For our mining clients, we also assist in a full clearance of the blast sites, to prevent any injuries to people, because on-site the roads and access change daily. There is no road in a mine.
"That has been the most important aspect that Fathom has created; turning numbers into words" – Grant Greeff
What are the main challenges your customers face and how do drones help them?
There are three main problems; people can get hurt, things break, and things get stolen. The solutions to those three problems are continually evolving. But drone technology provides us with a very, very rapid ability to collect data and to process it in a far quicker time and covering a far wider area that one could normally do using other technologies, such as riding on a horse, going around with the dog or going around in a car, because I think it's important also that we use both vehicles and drones.
Read more: Customer catch up: Guy De Wieuw at Petworld, South Africa
Tell us how you use Fathom in the business and your wider finance function?
So first of all, I was really impressed with Fathom. When I arrived in the business, there were a lot of manual processes. The financial systems weren't as solid as one would ideally want them to be. And so I did a massive overhaul of the financial systems and prioritized using Xero as the accounting platform. I then created a lot of the system integration using Approval Max and Dext (formally Receipt Bank). Once the data had been organized and everything had been correctly allocated, I needed to start being able to interpret it. That has been the most important aspect that Fathom has created; turning numbers into words.
Start your 14-day free Fathom trial today
"What people always forget is growth consumes cash" – Grant Greeff
How else are you using Fathom?
What I'm getting into now is the forecasting side. For our type of business with significant projects, being able to see the financial consequences of that project coming online and what resources are needed is fundamental to how we position the business to scale. Because what people always forget is growth consumes cash. And so you need to forecast for that cash consumption. The time saved with forecasting has been around 6 hours per week because the scenario planning is super easy to create and adjust when unexpected situations arise.
Webinar: Forecasting for businesses
So to give an example, the electricity provider in South Africa, it's called Eskom. And so I can add a forecast of a project with them and see the impact. So, on the top line side, you've got the revenue forecast, but then you've got of course the drivers that come in – staff, vehicles, the compliance and the equipment. Because, when I put in that revenue now, because I've got accurate data now of percentage of transport costs, percentage of employment costs, and so on relative to the revenue, it really can give me a reliable forecast to see what the net result is on, on our cash position, as well as the force on the P&L.
Read: Understand your Cash Flow
What are some of the specific KPIs you're tracking?
So I think the non-financial KPIs that I've been looking at implementing is revenue per drone team and revenue per flight hours. So the number of flight hours to the actual revenue that's being sold. Also, the number of incidents, specifically around the security side of things, security and safety, the number of incidents reported, I think that's also vital for us to keep a record of because that's really where the value exchange happens between the customer and our organization.
How are you using Fathom for reporting?
So firstly Fathom has made me look good! I can show the senior team the numbers and tell a story about them. And they can then click in and look at the detail, the dynamic, and the animation and flow of everything. And if they want to print it out for themselves, they can. The time saved with reporting is around 10 hours per month because I can use report templates and the information is pulled automatically and updated accordingly.
But the exciting part going forward is that we will be looking at using Forecasting in a lot more of a – let's say creative way. We can look at projects and say "Hmm, this has been delayed, let's move this forward", and that's just going to give people a lot of confidence as well. The ability to just focus and implement.
"With Fathom, I could see the pattern of what was happening" – Grant Greeff
What are some of the other business problems that you anticipate and how has Fathom helped you with them?
I think of it as the past and the future – so historical and future data. From a historical aspect, what's important is that we're now able to format all the data into a structure where the team can make better decisions going forward, by learning from the past.
So just to give an example: fuel. For our drone teams, fuel was a key driver. With Fathom, I could see the pattern of what was happening. I went and questioned why it was so high. We made changes to the structure of how fuel was being purchased and it gave us a 20% saving immediately. So, from my side, that's excellent.
And then, on the future aspect of things, I think Forecasting allows us to understand the economics of a particular project, especially when it comes to the actual payment terms of the contract. For example, we have one type of project where we're likely to receive our first invoice in month three. And so, if you really can start to understand the free cash flow movements of particular projects, it gives you a better understanding of how to process them. Those are the little crystal ball insights that improve how we position ourselves.
You came in with a specific task to overhaul the finance function. Was there any resistance to deploying Fathom?
So I was expectant of some tensions, from a culture point of view, with someone new coming in. But Fathom enables people to recognize and just see how they can make better-informed decisions.

From a support point of view, it's been amazing. Just to give candid feedback, the fact that I asked questions in the online chat and someone replies, for me that's important because I've learnt Fathom from scratch, so to do that has been great.
---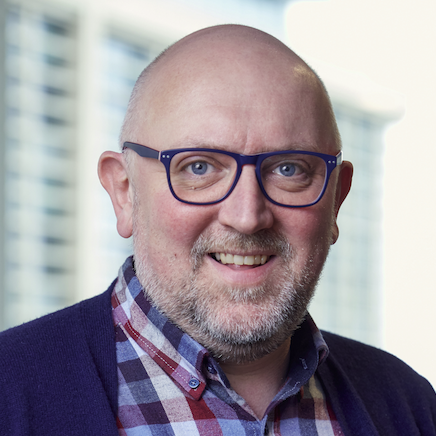 Written by Andrew Webb
Andrew is Fathom's Content Strategist based in the UK. He has a background in journalism and has worked for companies like the BBC and HuffPost, as well as start ups in education and technology. Andrew has also published 5 food books and makes a great pie.