In early March we launched Fathom Certification, and are delighted to say that in just two months the number of enrolments has reach the significant milestone of over 1000.
Whether you've been using Fathom for six months or six years, Fathom's Advisory Certification can help you find new features and ways of doing things, ultimately adding new skills to your firm. It's completely free for you and your staff, and takes an average of six hours to complete.
Not only that, but getting certified in Fathom lets you gain credit towards CPD/CPE. The course is modular, so it can be completed at your own pace, and it covers all elements of Fathom including Analysis, Forecasting and Reporting.
Not yet a Fathom customer? Certification is included in your free 14-day trial.
And if you're already a Fathom customer you can start Certification directly in the app.

But don't just take our word for it, here's real feedback from accountants, bookkeepers and advisors who've earned their Fathom Certification certificates. Our thanks to them all.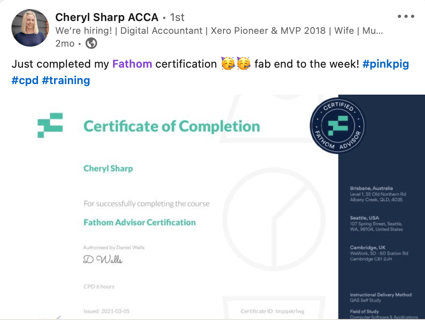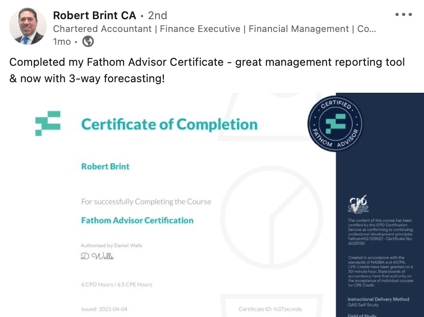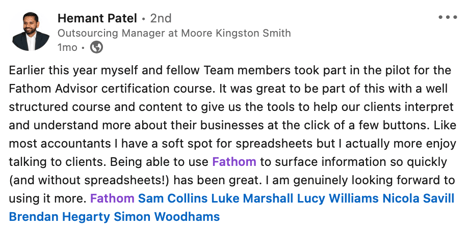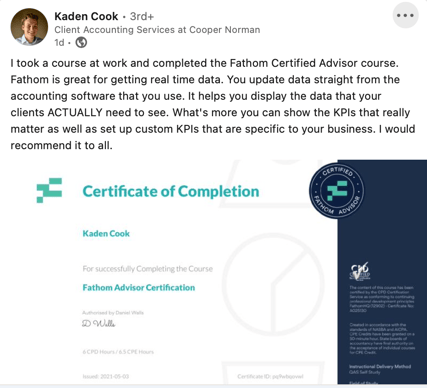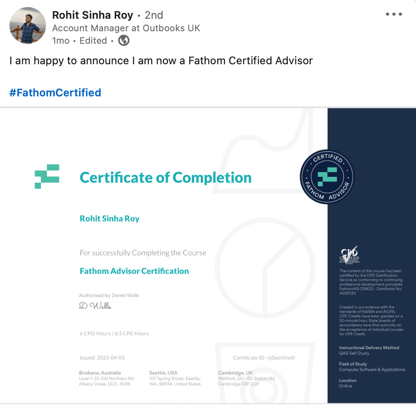 Here are just some of the benefits of Fathom Certification:
Confidently serve your clients

Become more proficient with Fathom, allowing you to offer greater value to your clients

Train your team easily and effectively for free

View how-to videos or read comprehensive guides

Gain credit towards CPD/CPE
So what are you waiting for? Enrol for Certification here and start your journey today.
---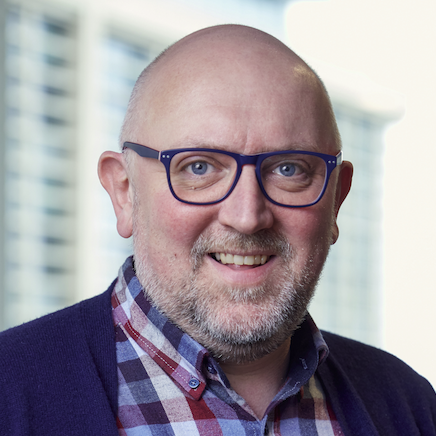 Written by Andrew Webb
Andrew is Fathom's Content Strategist based in the UK. He has a background in journalism and has worked for companies like the BBC and HuffPost, as well as start ups in education and technology. Andrew has also published 5 food books and makes a great pie.