It's with a heavy heart that Fathom says so long to Director EMEA Business Development, Andrew Jordon, as he moves on to an exciting new endeavour.
Andrew built Fathom's UK-based EMEA team from the ground up, starting with just himself in his parent's spare room, before moving to the Cambridge hub office we have today and crewed by seven staff across marketing, customer success and training & implementation.
"To the UK team that I have had the pleasure of assembling, I am immensely proud of all we have achieved together in the last 2.5 years as we've rapidly scaled the European, Middle East and Africa Fathom operations. I particularly want to thank Matt Lowry, whom without, Fathom in the UK really would not be what it is today," says Andrew.
So what lessons and experiences will he be taking away from his time with Fathom? "I have learnt so much from the co-founders of Fathom, Dave, Dan and Geoff, but most importantly how to care for your team both professionally and personally. Thank you for inviting me into your homes and staying up late for calls!"
From Advisors' Assembly to Advisable
Andrew was the main driver behind the development of Advisable, Fathom's educational initiative that helps accountants with tips on how to design and deliver advisory services. Starting with Advisors' Assembly, a live event (remember those) last November, Advisable evolved into a fully fledged online resource in early 2020.
Read: Say hello to Advisable, brought to you by Fathom
The next adventure
Andrew's leaving Fathom because he has founded his own start-up, Connect4, which better connects accountants with their clients. You can find out more at connect 4.app, and read more about Andrew's time at Fathom in his recent LinkedIn post.
Introducing Darren Glanville
And so with Andrew moving on, we set about finding someone to fill the gap. Darren has a wealth of experience in the accounting and accounting software industries and was a stand out candidate – we are excited to welcome him to the team.
Darren will build on Andrew's work ensuring that Fathom's EMEA presence continues to grow and develop. And with our imminent launch of our forecasting tool, Darren joins at a crucial moment in the Fathom story.
We are incredibly grateful for all that Andrew has contributed to Fathom and wish him well on his new endeavour.
---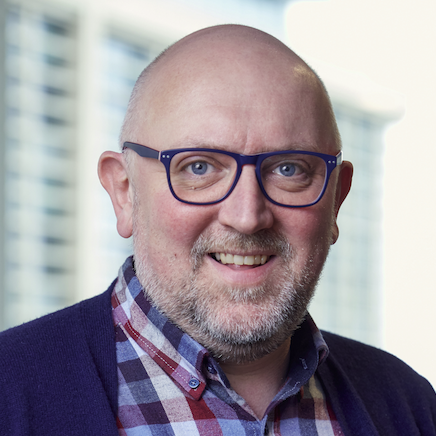 Written by Andrew Webb
Andrew is Fathom's Content Strategist based in the UK. He has a background in journalism and has worked for companies like the BBC and HuffPost, as well as start ups in education and technology. Andrew has also published 5 food books and makes a great pie.