Fathom provides advisors and business owners with beautiful performance reports and timely business insights. In this article, we share how you can use Fathom to compare and consolidate your organisations.
The power of cloud accounting
It's no secret that cloud accounting software provides single-entity businesses with significant efficiency gains. Before the cloud, a lot of valuable time was spent keeping accounts up-to-date. But now, this time can be reallocated to activities that help steer a business towards competitive success. By using innovative accounting software, you'll also find there are considerable benefits for multi-entity organisations such as franchises, schools, churches and clubs.
For example, franchisors can receive easy access to the financials for the entire franchise network. Or organisations with international operations are able to keep an eye on each operation, regardless of where they are in the world. By leveraging the power of the cloud, new accounting tools aid the operational effectiveness of these businesses by helping them run better connected operations.
In addition, Fathom can assist multi-entity organisations with their business intelligence and advanced reporting needs.
Advanced reporting using Fathom
Successful implementation of business intelligence often rests on two factors – easy access to data, and a rich, flexible toolset to visualise and analyse this data. Using cloud accounting software ensures the latest figures for each entity are easily accessible to decision makers; and then Fathom helps to transform these financials into a range of visualisations and insights.
Fathom provides these business insights at both the entity level (ie. to a store manager or franchisee) and also at the group level (to a franchisor or head-office).
So in addition to assessing the performance and financial health of each business entity, Fathom provides multi-entity organisations with a comprehensive reporting solution to compare the performance of each entity and consolidate the performance of a group of entities.
See the big picture – comparative analysis
Performance is relative… so it is essential for a business to compare against past performance, and compare against budget, or compare against target. In addition, Fathom also enables comparison against peers.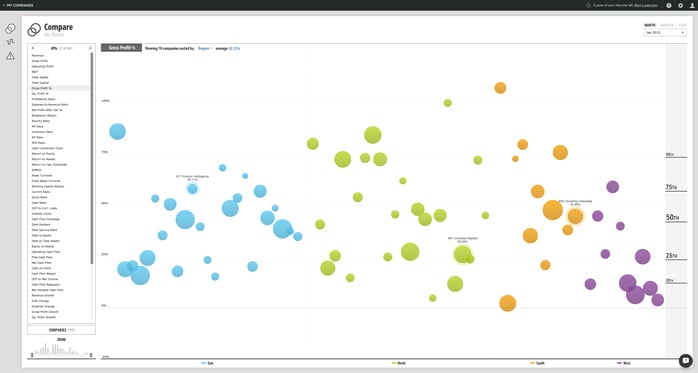 For multi-entity organisations, it's important to have complete visibility over the entire network of entities. Within Fathom, this visibility comes through the financials sourced from the accounting system, as well as non-financial data sourced from other systems.
Using Fathom, you can easily use this financial data to create your own benchmarks. The interactive analysis tools allow you to group your companies together, then drill down into your data, reshape your field of analysis and compare the performance of all your entities.
✓ Benchmark financial and non-financial KPIs
✓ Perform 'exception analysis' and identify over and under performers
✓ Identify strengths and weaknesses relative to peers
✓ Benchmark anonymously or run an 'open' benchmark
Simply put, Fathom helps you easily compare, rank and benchmark your companies, clients or franchisees.
Create consolidated reports – in minutes not weeks
For businesses with multiple entities, Fathom also provides an easy solution for consolidations. This feature helps to save time and creates accurate consolidated financial statements. These reports can be customised, branded and exported to PDF or Excel. If required, inter-company eliminations can be easily applied.
✓ No more manual consolidation of financial data using Excel
✓ Consolidate up to 300 organisations
✓ Full support for multi-currency consolidation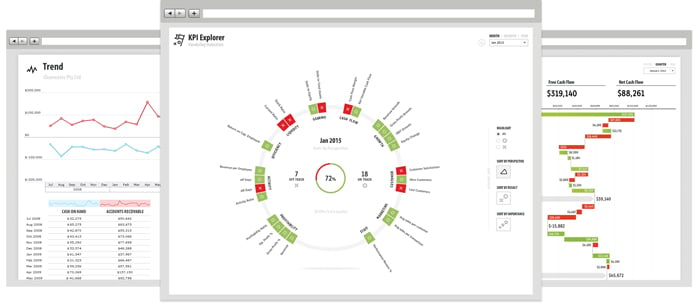 Fathom is on a mission to provide all types of businesses with tools to analyse, compare and consolidate business performance. We're proud to have built a product that our partners love.
"We have been extremely happy with the functionality and ease of use of Fathom. The reporting makes explaining operational performance for financial and non-financial data easy to understand. We are also using Fathom in developing a very valuable database of KPI tracking to assist practices benchmark key metrics in their businesses. Fathom is proving to be a very valuable tool to enable that process for us."
– Greg Gunther, Podiatry Hive
"We get real value out of Fathom, using it for monthly company benchmarking reports, during our business planning sessions and also to provide alerts to our Support Team of any businesses that are not performing as expected. This helps us to be more proactive as a workforce and allows us to focus on the important information in our businesses. It is a slick and easy to use add-on that brings our financial data to life."
– Ashley Clemmett, Laser Group
If you'd like to learn more, sign up for a free trial and begin creating beautiful reports. It only takes a few minutes to get started. You can also view our feature guides for more in-depth information on how benchmarking and consolidations work in Fathom.
---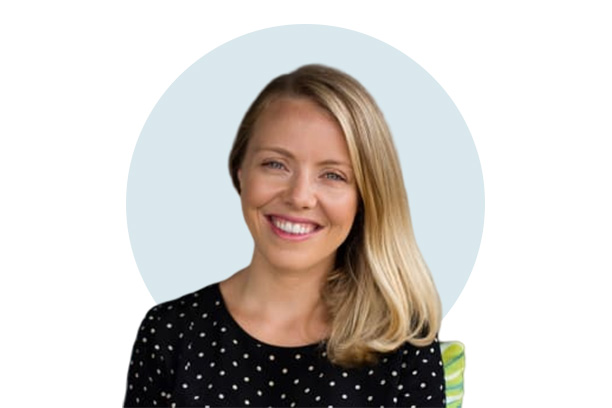 Written by Georgie Pollok
Georgie leads our Brand & Communications team. As one of the company's first employees, Georgie is passionate about the product and its users. She has over 15 years of experience in communications in a variety of industries and holds a Bachelor of Business/Bachelor of Arts in Marketing and Public Relations.