In developing Fathom Forecasting, our goal was to create a tool that was not only powerful, but also approachable and actionable. As part of this, we've focused on developing a deep integration with Fathom Reporting, giving you beautiful forecasts to present to key players.


This month, we've introduced 20 new charts and tables along with more report templates to help you to leverage your forecast and budget data in all new ways!
Analyse scenarios with our new scenario comparison trend charts
Data visualisation and analysis is at the core of what we do. With our new scenario comparison charts, you can plot a metric or line item and view up to five different forecast scenarios or budgets against your baseline forecast.
Visualise the impact of your best and worst case scenario, track your cash account under different collection outcomes or compare any of your scenarios in just a few clicks!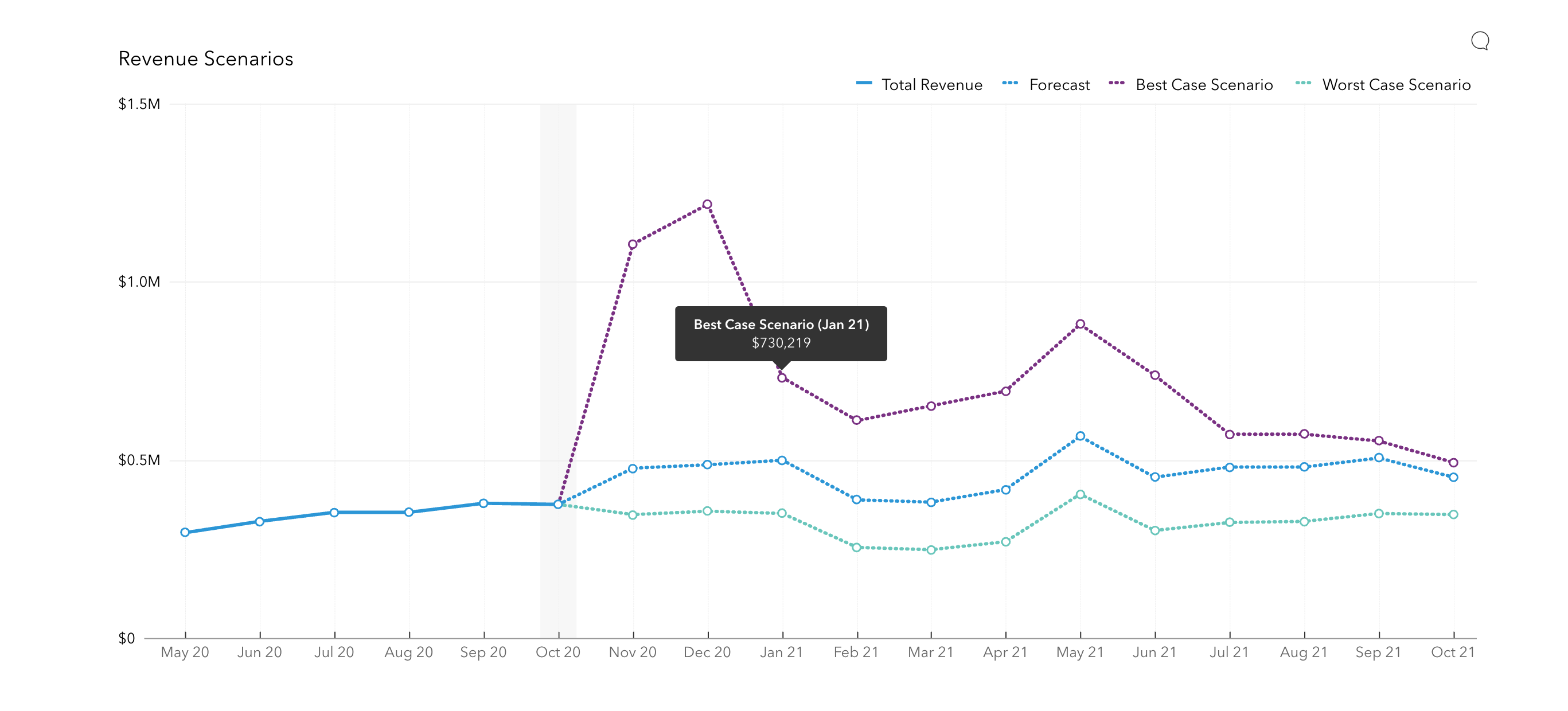 Forecasting report integration
Alongside our Forecasting release late last year, we quietly rolled out a range of new tables to help articulate your forecast data in your management reporting. These components help you deliver fresh insights and drive decision making using your forecasted financials.
Microforecast detail view
Add a table to your reports which shows the specific impacts of one of your microforecasts, bringing individual business events to centre stage.
Business Roadmap
Include the Business Roadmap in your monthly reports, to help bring focus to your action plan for the next 12 months.
Projection trend chart
Drive forward-focused discussion, by projecting key metrics and line items on our projection trend chart.
Trend financial statement projections
Use your forecast data to project your financial statements into the future, compare scenarios and add insightful data into your table.
Assumptions layout
Keep the fundamentals close by, with our assumptions layout which highlights the key calculations, drivers and tax rules for your forecast.
Drivers grid
Report on the foundations of your forecast with ease. The new drivers table gives you A comprehensive list of all the drivers in your forecast and formula calculations.
Predefined templates
The power of Fathom forecasting meets the efficiency of our report templates.
Three-way Forecast Excel template
Quick access to the detail of your forecasted Profit & Loss, Balance Sheet and Cash Flow Statement in one Excel download.


Forecast Analysis template
Leverage the brand new Forecast Analysis template to quickly download a report or create a draft report, helping you to deliver a three way forecast and analysis in minutes.

Budget reporting upgrades
Use your budget in flexible new ways. In addition to our current budget reporting you can now report on prior and future budget periods, or combine your budget and actuals to form a projected view of the year.
Have a budget that's been approved by the board? Or something that you like to closely track?
Use our new 12 month rolling budget table to help you keep your eye on the numbers that matter.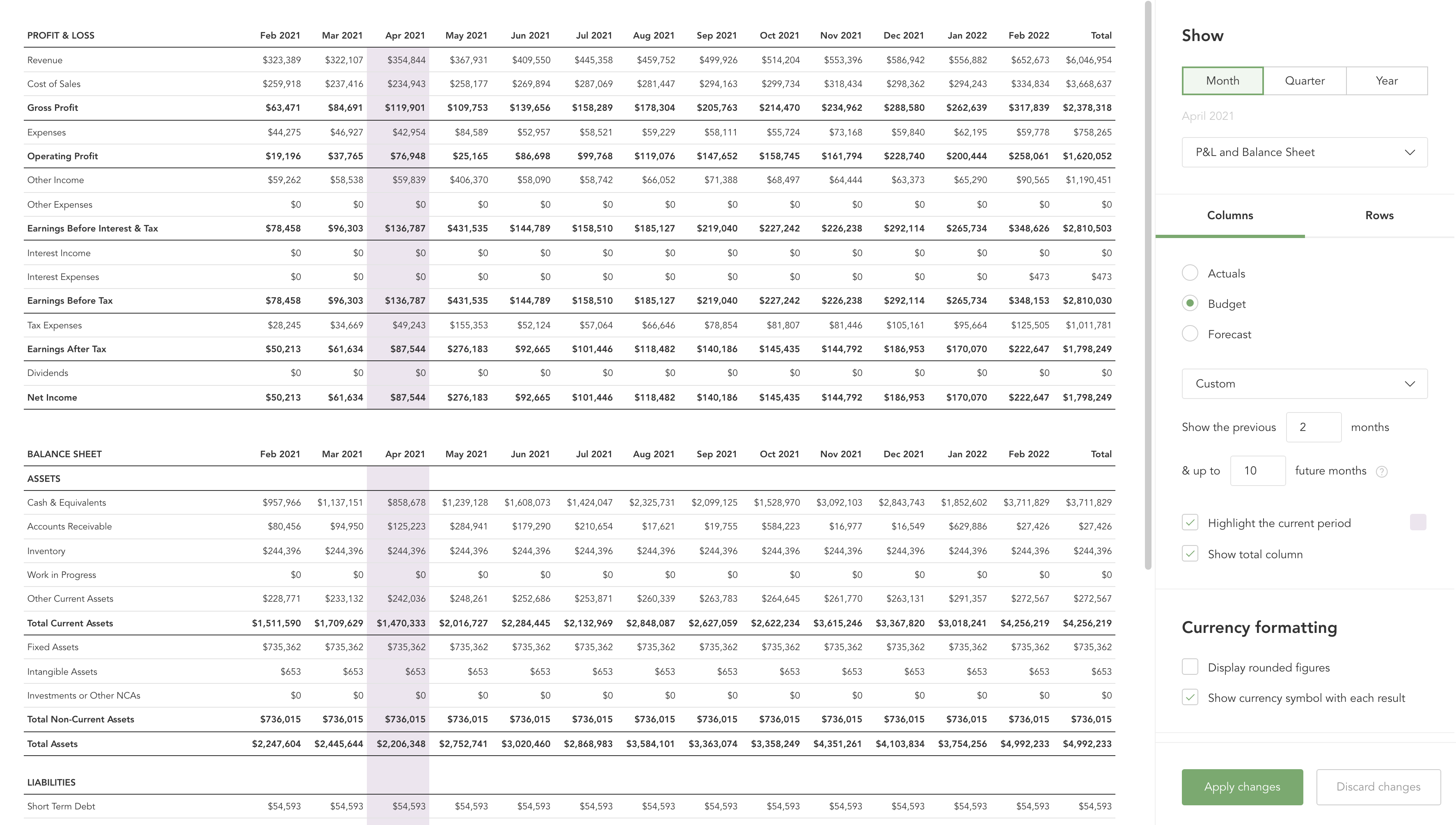 ---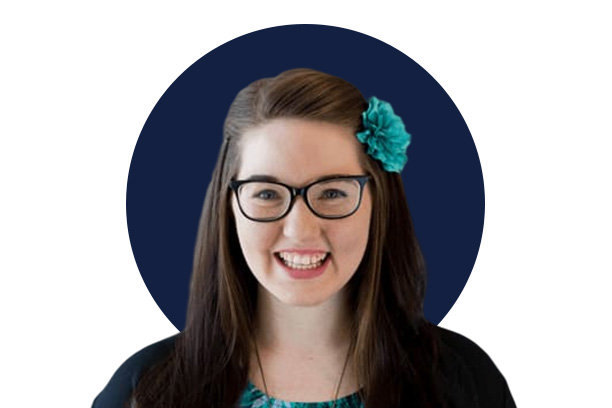 Written by Laura Van Doore
Laura is Fathom's Head of Product. A seasoned design & product professional, Laura has spent over 10 years working in user experience, in environments ranging from scrappy startups to corporate giants. Her background includes designing industry leading digital products across fintech, travel, government, automotive, ecommerce, fitness & real estate.