The final tip in this current series is specifically relevant for business advisory firms and multi-entity organisations, such as franchise groups. In this tip we explain how Fathom's benchmarking analysis enables you to compare the performance of multiple businesses (or business units) in a single view. This analysis is also useful for informing how the current crisis is impacting all your companies or clients.
A common use of the benchmarking feature is the comparative analysis of franchisees within a franchise group.
Fathom allows each franchisee is track their own KPIs as well as see how their results compare with other franchisees.
The comparative analysis feature provides benefits to both the franchisor and franchisees:
Benefits for the franchisor (head office):
Benchmark financial and non-financial metrics
Visually rank, compare and benchmark all franchisees
Identify high performers and best practices
Deliver insight and value to franchisees
Benefits for the franchisee:

Be kept up-to-date on their metrics
Receive regular performance reports
Understand how their performance compares against peers
Make more informed business decisions
See the big picture
The compare chart is an interactive tool which enables you to see a "bird's eye" view of all of your companies, clients or franchisees. The screenshot below compares results for 70 companies for a single period.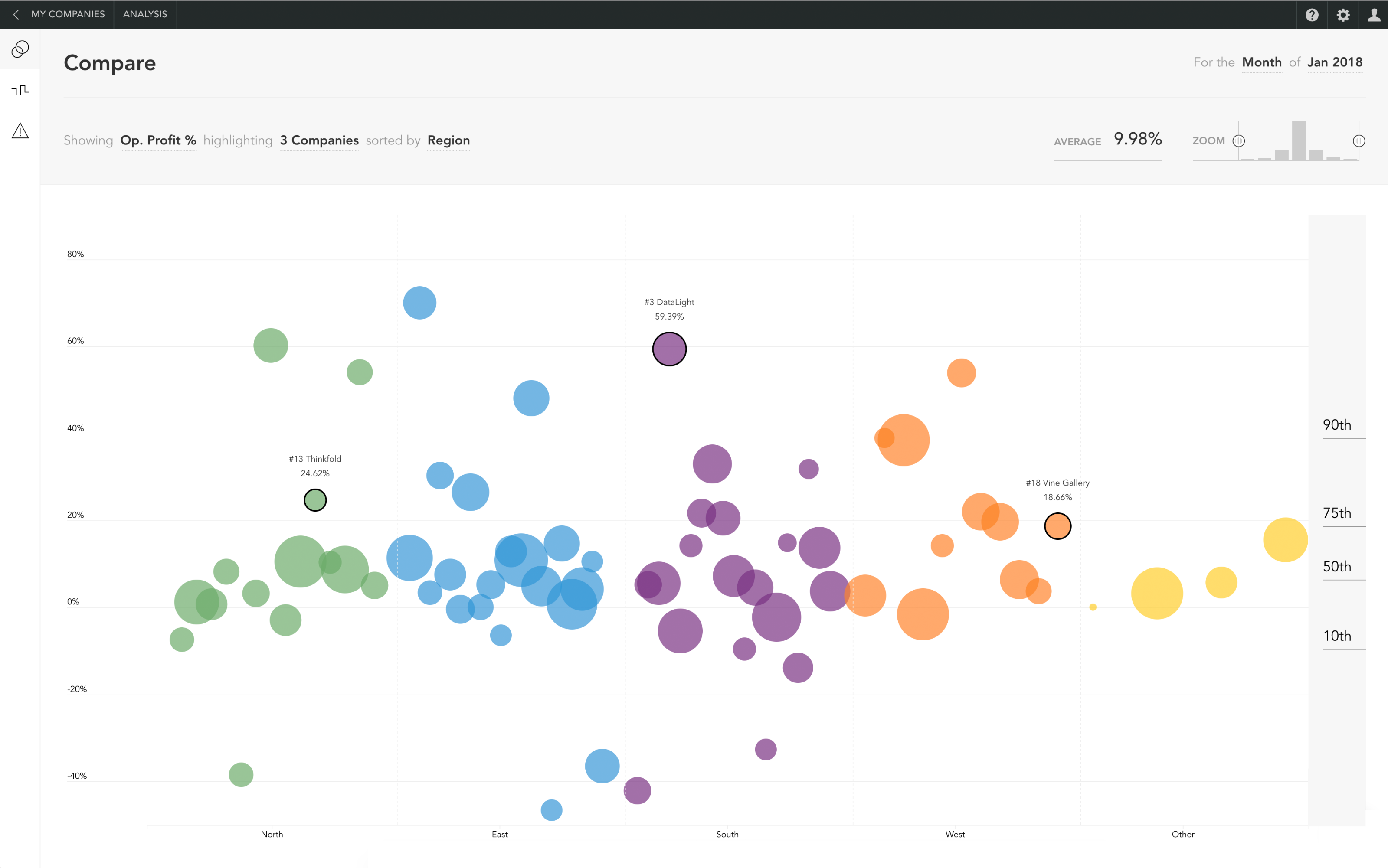 Companies grouped by region.
Companies in this analysis can also be grouped into sub-groups (eg. region, location, size, ownership). You can quickly focus on one region or select a group of regions. You can also drill down into the data, or reshape your field of analysis.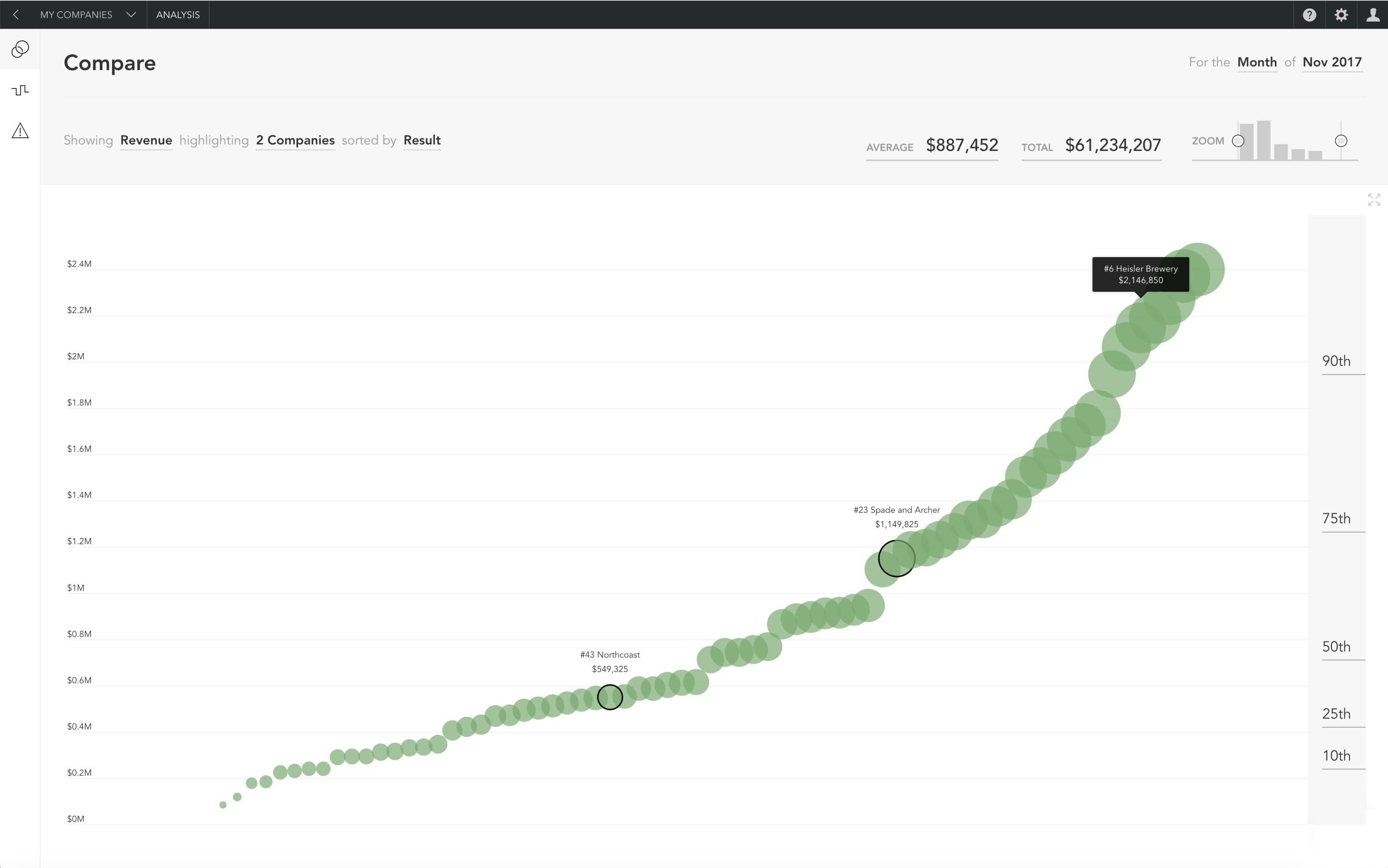 Companies sorted by result.

This analysis can be set up to enable franchisees to understand how they compare against their peers by comparing against either anonymised or identified peers.
Note: The benchmarking feature does not provide access to any external benchmark data, rather it enables you to create your own benchmarks using data sourced from your own companies or clients.
Benchmarking for advisors
For accountants and business advisors the benchmarking analysis enables you to monitor the financial health of your portfolio of clients. This analysis may help to identify which of your client's businesses have been most impacted by the current crisis.
To evaluate the financial health of these businesses you can view performance for a range of metrics which specifically track financial health and resilience. See Tip #1 for suggestions of metrics which are useful for assessing profitability, efficiency, liquidity, debt servicing and cash flow.
In the current business environment, these metrics will help you assess which clients are experiencing stress or are vulnerable to a downturn in trade. Insights like this enable advisors to proactively initiate advice or services to clients who are in need of assistance.
Alerts dashboard
An additional visual which is useful for assessing the performance of multiple clients is the alerts dashboard. This dashboard presents an all-in-one view of all alerts for your companies or clients.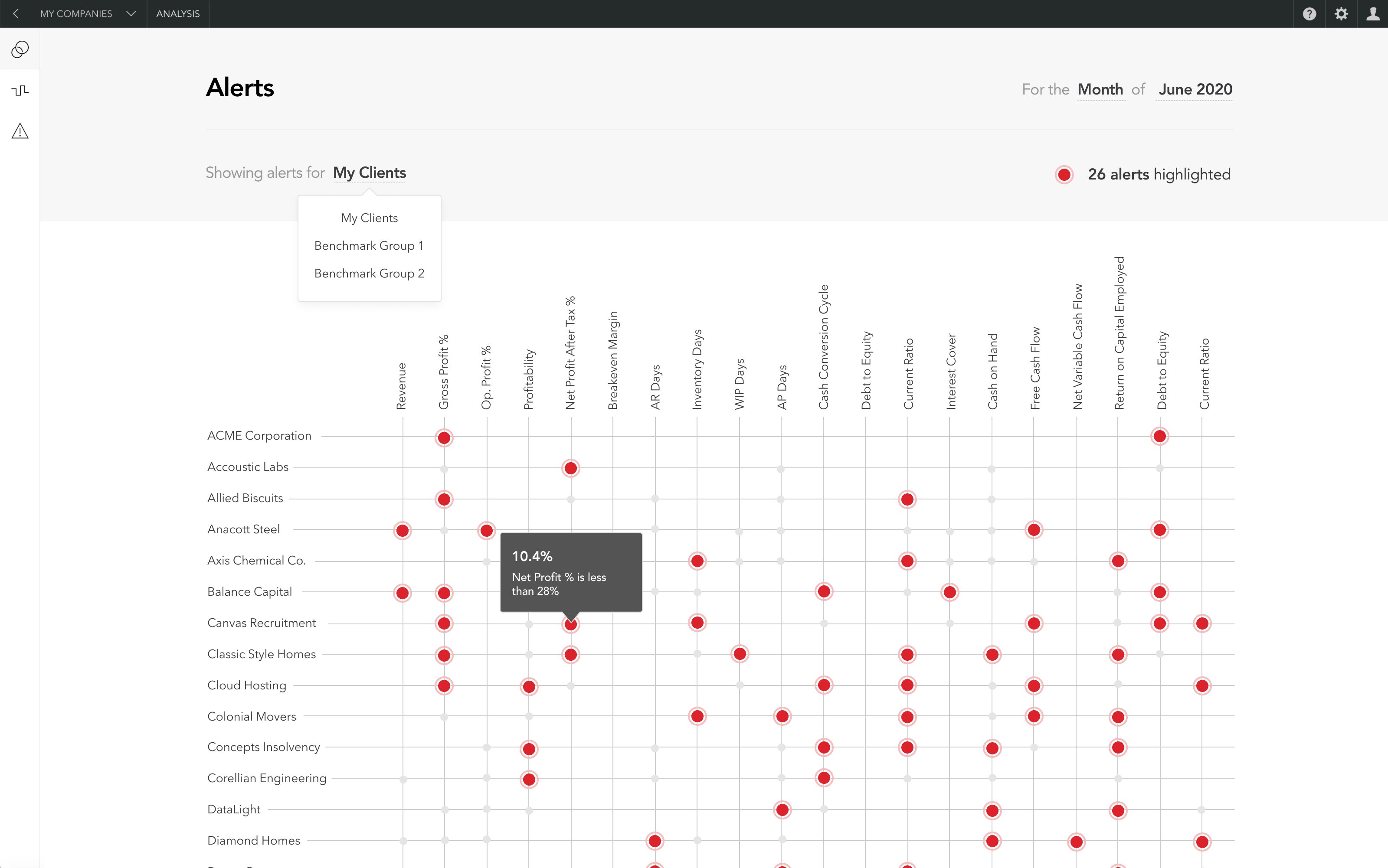 Listed on the left are your companies or clients. Across the top are KPIs which you are tracking alerts for. Each red dot represents an alert that has been turned on and triggered, for the selected period. For example, in the screenshot above the Net Profit % result for the highlighted company is below the set alert level.
If you click on this red dot, it will drill down into the results for this company, and immediately reveal more detail.
The Alert dashboard presents a heat-map of all the alerts for your companies or clients. It enables you to identify potential areas of concern. For advisors, it may further help you to proactively initiate support and advice to clients who are most in need of help.
We hope the overview of the benchmarking features here are useful for business advisors and multi-entity organisations, who are seeking to gain a holistic view of the performance of their companies or clients.
Not a Fathom subscriber? We offer a 14 day free trial, no credit card required.
---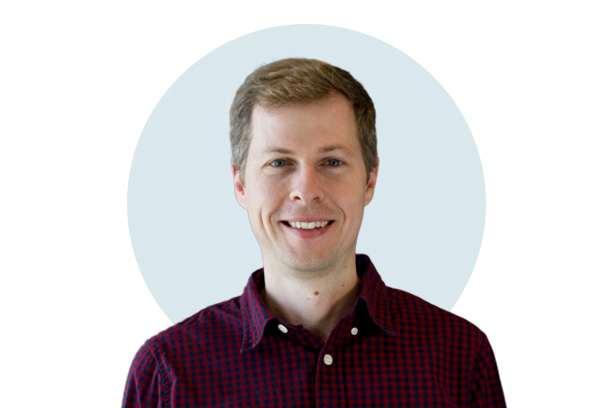 Written by David Watson
David is a co-founder of Fathom. He is passionate about designing insightful and visual tools which help to measure business performance.