Back in our August announcement, we introduced the early access release of a stack of new features that will help you produce management reports in record time. We've been overwhelmed with the positive feedback from all the users who opted in for early access:
"We are in LOVE with the new reporting release that just came out. It has easily shaved 30 mins of work off each of our client's report builds"
"I've been using the new reporting for 2 weeks or so ..... and it's great! Especially the graph duplicate, which I really wanted. Making changes is already much easier. Looking forward to the next exciting releases"
"I'm very impressed with the new reporting features. Thanks for making my job easier!"
"Drag and drop editing! Beautiful UI! 😍Incredible work from such a talented team"
So far these enhancements have only been available for users opting in to our early access program, but we will be switching all Fathom accounts to the new platform over the next few days.
But that's not all! In the last month, since the initial launch, we've improved the performance of our reporting platform, and introduced a further range of efficiency enhancements we know you'll love.
Smoother drag & drop
We've improved the speed and performance of our drag & drop interactions, which will make working with large reports noticeably smoother & more responsive.
Drag to select
Our brand new multi-select and bulk actions have been a hit with users, but we wanted to make the experience even more slick. You can now drag to select a group of components, without having to click on each one.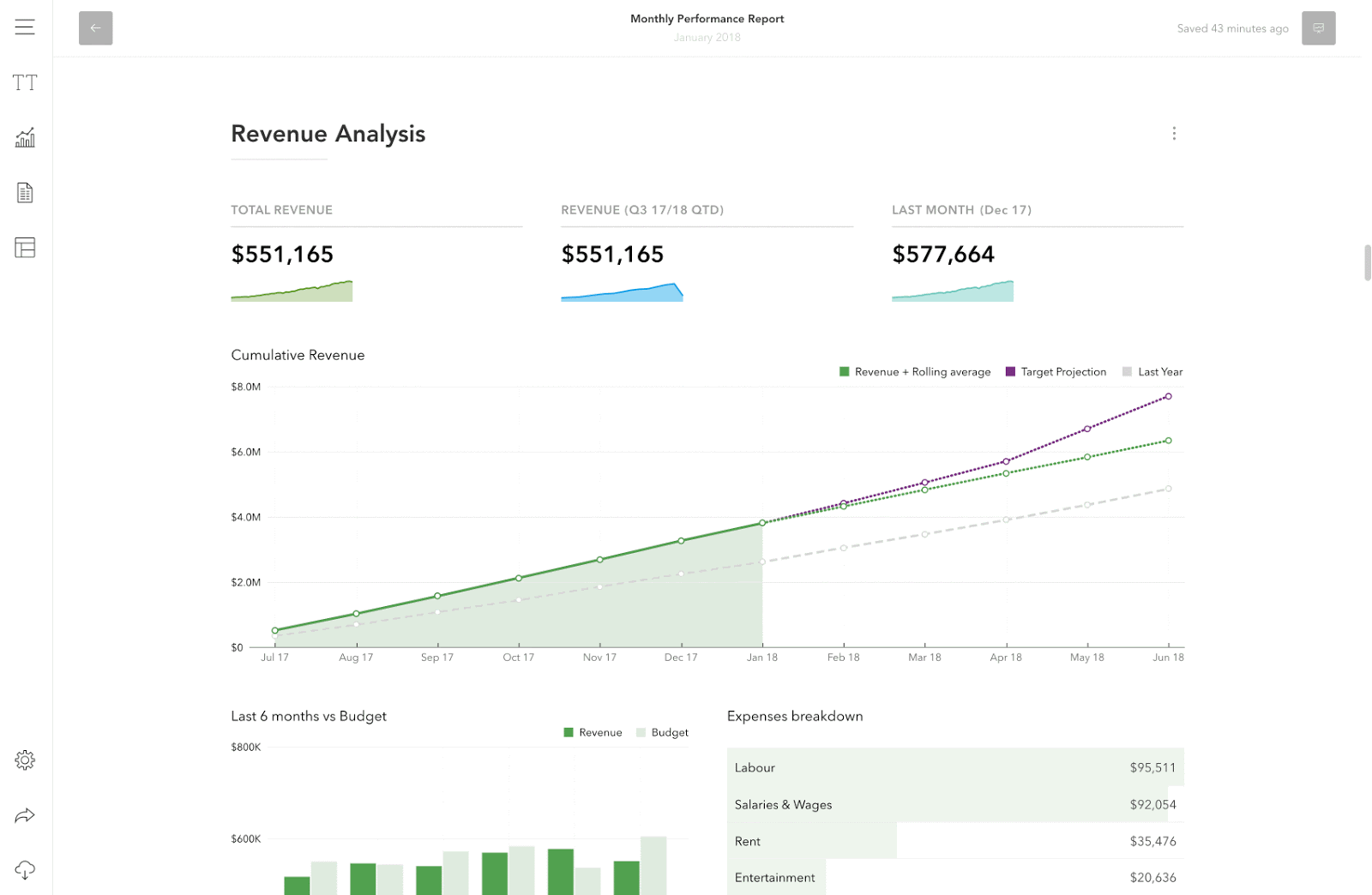 Shift + select
We've just added the ability to shift+select a large contiguous group of charts, tables and text blocks. You can try this by selecting the first one, holding down shift, and clicking on the last one in the group. This will select all the items in between the first and last selection, allowing for speedy multi-select and bulk actions.
Keyboard shortcuts
We introduced keyboard shortcuts in Analysis tools late last year, and it's quickly become a favourite for power users. Now Reporting has a few handy shortcuts built in as well:
Type '/' and start typing to find charts & tables in the content library sidebar
'd' to quickly download a PDF report of the report you are currently viewing/editing
Finished building your report? Use 'p' to open the publish workflow and propel your freshly minted report out into the world.
Clicking '?' on your keyboard will bring up the list of all available shortcuts.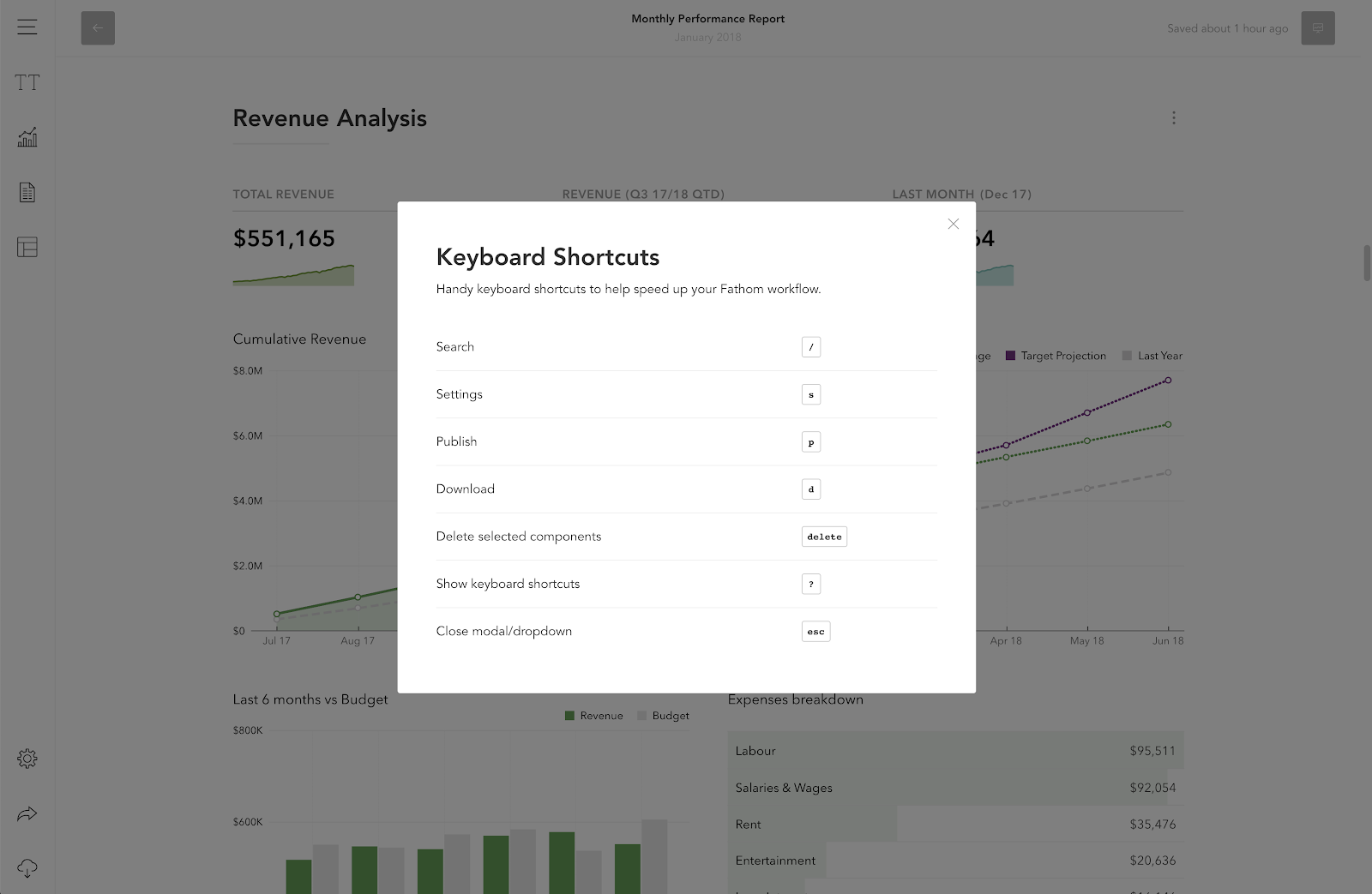 More comprehensive currency support
Fathom is loved by users all over the globe, so we are always working hard to make sure that we are supporting as many currencies as possible.
With our latest release, Fathom now supports an impressive 97 currencies. Our latest additions include:
GYD - Guyanese Dollar

LSL - Lesotho Loti

BDT - Bangladeshi Taka

KHR - Cambodian Riel

GEL - Georgian Lari

KHR - Cambodian Riel

AWG - Aruban Florin

NAD - Namibian Dollar

BWP - Botswana Pula
See our full list of supported currencies here.
We'd love to hear your thoughts and feedback. If you have any questions please email us at support@fathomhq.com.
---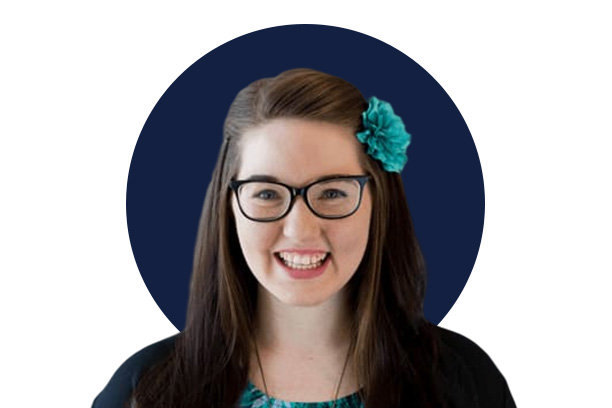 Written by Laura Van Doore
Laura is Fathom's Head of Product. A seasoned design professional, Laura has spent over 9 years working in user experience, in environments ranging from scrappy startups to corporate giants. Her background includes designing industry leading digital products across fintech, travel, government, automotive, ecommerce, fitness & real estate.